Welcome to
Bubble Science 101
Combining Creative Play with Hands-on Science.
About Bubble Science 101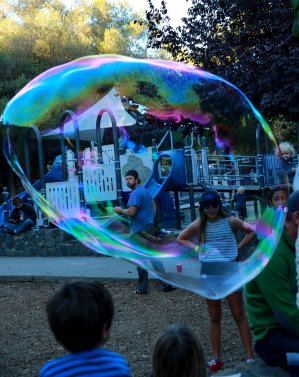 Combining Creative Play with Hands-on Science.
Bubble Science 101 lets people of all ages to make giant soap bubbles that can get as big as a car! This event was created by retired scientist Ron Schultz (B.A.,M.A.) for Santa Rosa Junior College's annual Day Under the Oaks celebration which brings in over 8,000 visitors.
After seeing so many people…especially children...having so much fun at the JC open house, "Professor Ron" decided to keep Bubble Science 101 alive by expanding it to the local parks.
All Bubble Science 101 performances are FREE.
Any money Bubble Science 101 generates is donated to the Toy For Kids program sponsored by the Santa Rosa Firefighters Local 1401. For over twenty years they have conducted a toy collection to provide less fortunate children in Sonoma County with at least one new toy at the Holiday Season.
Contact:
"Professor Ron" Schultz (B.A.,M.A.)
Project Coordinator
BubbleScience101@gmail.com
NOTE: Ron is the Project Coordinator of the all-volunteer Bubble Science 101 Project. He received a B.A. in Math with a minor in Physics from the University of California, Berkeley. After graduating, Ron was appointed lead mathematician at the fledgling USAF Space Command. While there, he received a M.A. in Neuropsychology with postgraduate work at Duke University and the University of New England (Aust.). After a career in pharmaceutical and industrial research, Ron taught Computer Science at Chesapeake College before retiring.